Wednesday 4th November 2020
19:00-21:45
Following on from last year's popular class, Crack Your Christmas Cards is back for 2020 in a ZOOM format.
Spend an evening making sixteen Christmas Cards (4 each of 4 different designs). Karen will have pre-designed 4 projects for you to create during the class.
Click on the pictures for more details on the products
===
There are 3 options for this class:
Option 1: Bring Your Own Stamp Set
£45 per person

Your Class Kit includes:
– Cardstock required to make the projects during the class, and envelopes
– Live online tuition (not available if you cannot attend the scheduled session)
– P&P from me to you
PLUS: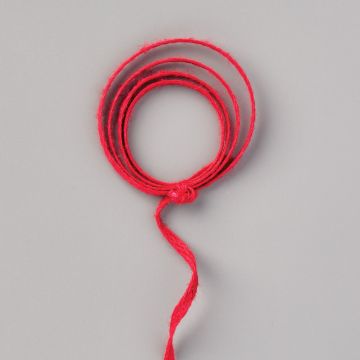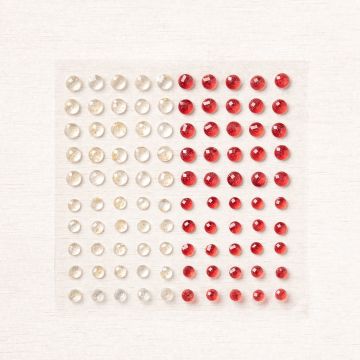 – A reel of 9.1m Real Red Braided Linen Trim (worth £6.50) to use on your projects
– A pack of 100 Wonderful Gems (worth £7.50) to use on your projects
– 100 Dimensionals to use on your projects
Please see list below for items YOU will need to provide *
===
Option 2: Stamp Set included
£60 per person
EVERYTHING included in Option 1
PLUS: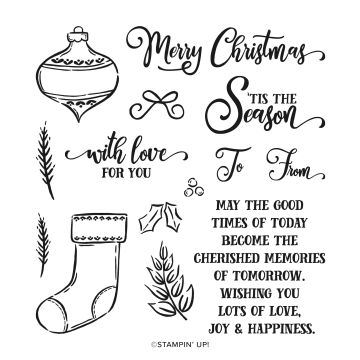 – Tag Buffet Stamp Set (worth £17) to use during the class
Please see list below for items YOU will need to provide *
===
Option 3: Tags too
£65 per person

EVERYTHING included in Option 2
PLUS: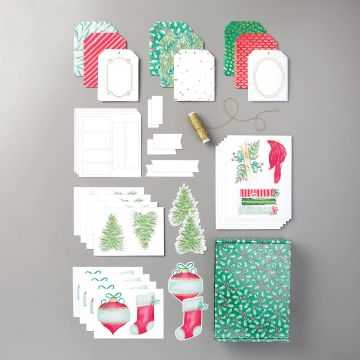 – 6 (six) co-ordinating tags from the Tag Buffet Kit (1 of each design in the kit), for you to make using items from your Class Kit.
NB: This is 6 tags from the kit, NOT the complete kit. The complete Tag Buffet Kit can be ordered from my Online Store for £28 + P&P.
Please see list below for items YOU will need to provide *
===
Your class pack will be posted to you.
===
* You'll need to provide the following:
– Scissors
– Adhesives
– Red Ink Pad (pref Real Red)
– Green Ink Pad (pref Garden Green or Shaded Spruce)
– Black/Dark Grey Ink Pad
– Blender Pen
– Wink of Stella
– If you are choosing Option 1, you will need to provide your own stamp set(s)/bundle(s) to create similar designs in a BYO Class Format.
 ===

This is an online class provided over ZOOM as part of my Social Isolation Classes. The link will be sent to attendees nearer the time.

If you can't attend this date, please let me know. I can either arrange a different date (if there is enough interest), or provide instructions on the various steps.
Book your place by Wednesday 21st October.
Select your preferred option – 1, 2, or 3, when booking.
Please note: There will be a VERY quick turn round between the class closing date and payment required date.
If there are sufficient attendees booked to allow the class to proceed, an email requesting payment will be sent, and payment will be required the day after the class closing date.
This is to allow for items to be ordered, delivered to me, packs to be prepared, and then posted to you in time for Class.
A minimum number of attendees are required for the class to proceed.
All abilities welcome
Click here for details of my ZOOM Papercrafting: Special Christmas Cards Class
---
I just wanted to share how I came to the decision to use the Tag Buffet Stamp Set.
At our previous face-to-face sessions, I could mix and match stamps from multiple sets with other products, and use lots of different ink pads. Running the Class over ZOOM, where attendees use their own supplies, requires me to take a very different approach.
Trying to find a stamp set/bundle to use for this Class has been hard. With Stampin' Up! rules not allowing the sending of stamped images in class kits, I have had to use quite rigid criteria to find a suitable set.
My criteria:
– a range of images to create 4 different projects (I looked at the holly, trees and snowflake sets, but I didn't think I would be able to create 4 different enough designs, without requiring additional items)
– images to be fairly generic as cards need to be suitable for all (not too cutesy, niche, need lots of careful colouring etc)
– can be used with a limited colour palette (eg red, green, black/grey)
– images need to to be fairly simple to cut out by hand if required
– stamp set has at least 2 sentiments
– can work with various embellishments (ribbon, gems etc)
– the projects need to be be quick and easy to make (multiples of each design)
– stamp set under £20
Bonus criteria:
– part of a bundle/co-ordinating items available
– not just for Christmas (can be used for other occasions
– designs can be used by those who are using different stamp sets